Seasons Greetings!
'Tis that time again where you have a large list and you need to make sure you don't go out of your means with those perfect gifts. So look no further for I did all the shopping for you! These gifts I am sharing are trend setting and I am sure that person on you list has not seen or received one of these and if they have seen these I am sure it is something they don't have!
For the sweet tooth- American Made Honey in 5 flavors from East Coast Bees. Yes! Honey has flavors, it comes down to what plant your bee friend visited. From a field of clover's or a field of blueberry's you will taste the difference. https://waxingkara.com/product/honey-tasting-tower/
Who doesn't entertain?  These little babies keep any beverage cool and your fingers dry.  Easy to wash, toss in the dryer and with patterns that can hide a stubborn stain.  Better yet you can pick the color and pattern.  http://shop.henhouselinens.com/10_x_10_Cocktail_Napkins_p/ck.htm
For the food lovers-  Its a good idea to keep hard salami, soft cheese's and crakers on hand because you never know who will stop by unexpectedly.  It's a quick thing to pull together and it looks even more fabulous on a beautiful tray to serve it on.    I love this 7×17″ marble and wood mix tray not to mention the price!  http://www.surlatable.com/product/PRO-1603760/?source=igodigital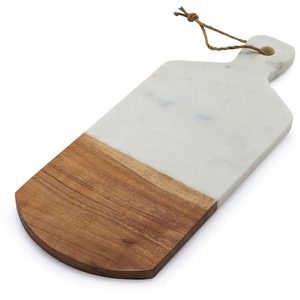 For the gadget guru-  Now I know this is not something new, I received one 14 years ago as a wedding gift but didn't  start using it until @ 1 year ago.  I am telling you it is my go to appliance! It is great to make smoothies, ice cream malts, soups, gravy and cocktails!  Great gift no matter how often one is in the kitchen.  This Cuisinart hand mixer is a great buy for what you want to use it for and it comes in 8 colors.  http://www.cuisinart.com/products/hand_blenders/csb-75.html
For the pet loving friend or family-  If someone got me a gift for my pet I would think that's awesome, they thought of my pet over me!  I am a fan of these type of clasps on collars for quick access to remove in case of an emergency.  The collars are also lightweight, quick-drying and odor resistant.   Free gift wrapping and monogramming from Mark and Graham as well, now how great is that?  http://www.markandgraham.com/products/ribbon-dog-collar/?pkey=cpet-accessories-dog-cat&

How about adding a personalized plush color pillow to a room for someone?  These 20″ linen pillows with block print patterns are available in a few colors and can be monogramed to add that person touch. http://gifts.redenvelope.com/gifts/personalized-palm-print-linen-pillow-30135763sk=&ref=REDorganicgglunkwn&prid=rbseogu&trackingpgroup=YouMayAlsoLike&sortOrder=1&recommendationContextObjectID=30135733&recommendationLocation=ProductDetail1&recommendationSource=VXVY_Product
For the salad lover- These utensils are beautiful and durable with brushed stainless steel ends with elongated black resin handles.  From Goa by Cutipol made in Portugal, these sleek salad servers are ideal for not bruising your salad leaves and scoping up those tasty ingredients that always fall to the bottom of the bowl.  http://www.abchome.com/shop/kitchen/serveware/serving-utensils/goa-by-cutipol-salad-servers-1394581
For the jet setter-  I am always making sure that my luggage tags are attached on tight with all the abuse your luggage can get.  I love that this cow hide tag tstands out and the size can hold your business card or a person card with all your info so your luggage comes back to you!  http://www.markandgraham.com/products/leopard-luggage-tag/?pkey=cleopard-collection&cm_src=LEOPARD-COLLECTION|cleopard-collection||NoFacet-–<
For the retro music lovers-  This is a great starter turntable for someone who is thinking of collecting old LP Vinyl records.  This is not a high end turntable but its a starter.  For another $30 you can get the next step up by Crosley, available in five colors.  http://www.amazon.com/Crosley-CR6005A-MA-Turntable-Portable-Mahogany/dp/B002N60HES/ref=sr_1_71?s=aht&ie=UTF8&qid=1415918848&sr=1-71
For the crafty person- This West Coast IPA Brewing Kit makes up to one gallon, or ten 12 oz bottles of beer.  The kit uses 100% malt extract, specialty grains, fresh hops, and high quality yeast. The finished beer is to have a very complex and intense hop taste with citrus, floral, and spicy hop notes.   http://www.uncommongoods.com/product/west-coast-ipa-beer-brewing-kit
For the mixologist-  They can't just put in that much time in a drink and not serve it with a cloth cocktail napkin, it just isn't right!  10″x10″ Machine wash 100% linen napkins add style to any tabletop or bar. You pick the satin stitch to customize the color and personalize it with the many great font monogramming options for free!  http://www.markandgraham.com/products/linen-satin-stitch-cocktail-napkins/?pkey=centertaining-barware&
For the scent of a women-  I know some perfumes can be so over whelming but kai is something different, its like the fresh smell of an ocean breeze.  This roll on oil will keep you coming back for more products.  http://www.kaifragrance.com/shop/perfume-oil-p-3.html
For that fashion forward friend- How about getting them a bracelet that was inspired by the sailing whip ropes that where used to sail.  Many other braclets and dog accessories are available by Rugged Wrist. http://ruggedwrist.com/collections/all
Happy Holiday shopping at your finger tips!